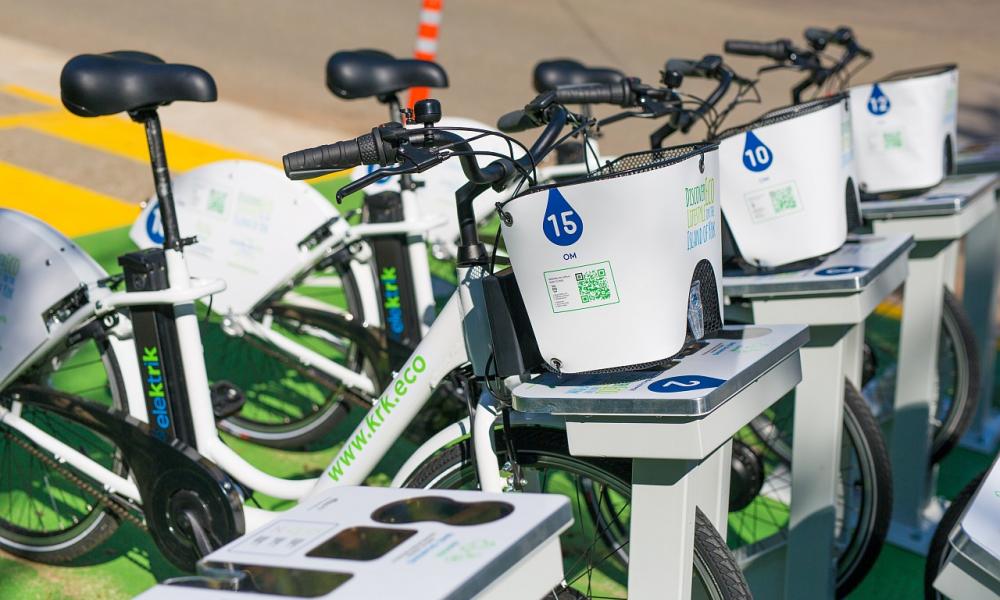 Krk Bike
The electric Bike Sharing public service on the Island of Krk
Price
e-bike: 20 kn/hour
e-scooter: 60 kn/hour
first 5 min free of charge
charging by minutes
An electric bike can be rented 0 - 24 h
Minimal amount on prepaid account: 40 kn
In case of bicycle malfunction, accident or tehnical diculties, contact:
Ponikve eko otok Krk d.o.o. - phone: +385 51 654 600 or e-mail: ponikve@ponikve.hr
In the event of an issue with your billing or card payment, contact:
Go2Bike d.o.o. - phone: +385 52 385 358 or e-mail: krk@go2bike.hr
Opći uvjeti korištenja sustava javnog iznajmljivanja bicikla Krk-Bike
Registracija u sustav Go2Bike.hr
Registraciju možete izvršiti kod preuzimanja bicikala slijedeći dolje navedene upute (upute se nalaza i na samim punionicama) ili unaprijed putem web aplikacije Go2Bike na adresi https://app.go2bike.hr/ 

A) Register
1. Insert the desired username, your email and pasword
2. Check your email and verify your email adress
3. Log in
B) Prepaid Top up
1. After Log in, select prepaid
2. prepaid account, TOP UP
3. Fill up personal data, Continue
4. Insert amount, Pay with Credit Card
5. Fill Credit Card details
6. Perform payment
7. Succesful prepaid top up
8. Prepaid account saldo - minimal amount for rent is 40 kn
C) Rent an electric bike
1. Scan QR code from bike    
2. ALREADY REGISTERED    
3. Log in
4. UNLOCK & RENT
After the beep the bike is unlocked and ready for use. Remove the bike from the stand and enjoy the ride. After completing the ride, return the bike to the stand. After the sound the bicycle is locked.
If you want to lock the bike in the rent, click on LOCK, and manually pull the handle down. For unlock, just press UNLOCK.
Locking bike if there is no room on stands 
If all the stands are occupied, you can return the bike by locking the bike in close proximity of station:
Scan QR code from this bike
  
1. In the web application, click "LOCK BIKE"
2. Lock the bike by pulling the lever on the right side of the rear wheel safety ring.
3. In the web application, click "CLOSE RENT"
D) eBike assistance

Island of Krk Bike Sharing stations on Google map... 
FREE OF CHARGE use of the Krk-Bike Deep-Sea system 
E-bike system at Ponikve building is available for free.
Free use is accessed by direct inquiry and request for registration at the Ponikve reception:
By filling out the registration form, the user accepts the general terms and conditions, and leaves personal document at the reception for insurance purposes
The user receives an RFID card with which he unlocks the vehicle free of charge
Upon correctly returning the bicycle to the initial DEEP-SEA station, the deposited document is returned to the user 
The system can be used free of charge during the working hours of the Administration Building, i.e. from 7:00 a.m. to 10:00 p.m., for up to three hours per rent. The number of rents per day is not limited.